This cute baby rhino is the cutest thing you are going to see all day! She is called Kianga, and is just a few days old. Check out the video below!
Cute Baby Rhino
Apparently she is the 94th southern white rhino to have been born in the San Diego Zoo Safari Park. What a cute baby rhino!
"Kacy is a very attentive and protective mother," Tina Hunter, of San Diego Zoo Safari Park said.  "She is fairly tolerant of the other rhinos being curious about the baby, but she is definitely keeping them at a distance. She is going to have her work cut out for her, as Kianga is rambunctious, has lots of energy and is a very curious little calf."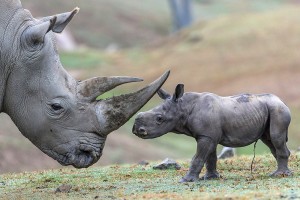 Awesome use of the word rambunctious there!
Well, we at Slapwank wish mother and daughter all the best. By the way, we toyed with the idea of a video of two rhinos mating. It was a bit early in the morning for that sort of thing though! So, we will just have the video of a cute baby rhino instead!