With the new Star Wars film coming out soon, there is no better time to show a collection of the best Star Wars Memes! You don't need to be a geek to appreciate these funny Star Wars memes… I mean, really, who hasn't watched the films?!
Funny Star Wars Memes Collection
You would have to be living under a rock to not know that the new Star Wars
film is being released on December 18th. Or you don't care. Well, you must do if you are reading this I guess. Regardless, "Star Wars – The Force Awakens" will soon be with us! In honour of what we hope is going to be a good film (say fuck NO to Jar Jar Binks), here is a collection of the best funny Star Wars memes.
Star Wars Memes from a Galaxy Far, Far Away…
Jedi Dressing Gowns – Star Wars Bath Robes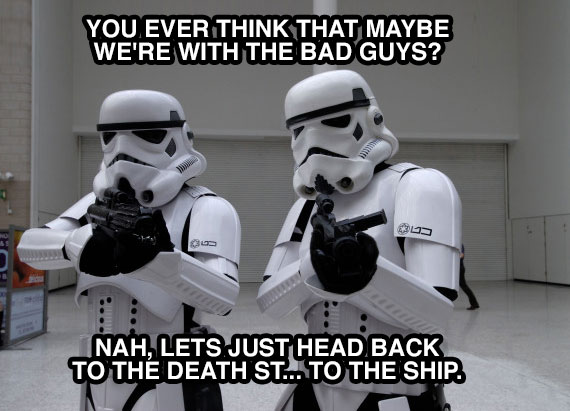 You know as well as we do that there will be tonnes more funny Star Wars memes coming out over the next week or two! As they appear, we will feature the best over on the Slapwank Facebook Page.
If you know of any other funny Star Wars memes, be sure to get in touch. Leave a comment below, or pay us a visit over at Facebook! Also, please check out the other funny memes here at www.slapwank.com. Let's put a smile on your face!